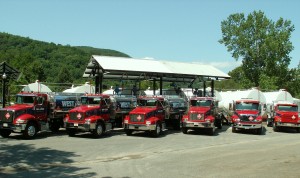 West Oil Company is here to supply our residential and commercial customers' fuel needs, offering; heating oil, kerosene and on and off road diesel fuels.
#2 Heating Oil for heating purposes.
Ultra Low Sulfur Kerosene for outside oil tanks and space heaters.  Kerosene will not gel like #2 heating oil will in colder temperatures.
Premium Diesel Fuels
Clear Ultra Low Sulfur Diesel Fuel for On-Road vehicle use.
Dyed Ultra Low Sulfur Diesel Fuel for Off-Road use, such as; tractors, heavy equipment and generators.
FOR YOUR CONVENIENCE, WE SELL ON AND OFF ROAD DIESEL FUELS AND KEROSENE FROM OUR ASHLAND STREET PUMPS!
Automatic Delivery:
One of the benefits of a full service oil company is having the option to choose Automatic Delivery.  The biggest advantage of Automatic Delivery is that you do not have to monitor your oil tank for the next needed delivery.  Nowadays, families are constantly on the move and it is very easy to forget to check the level of your oil tank.
With Automatic Delivery we track your usage by our degree day monitoring system.  This system calculates when you will need your next delivery and will automatically generate a delivery ticket.
Selecting Automatic Delivery does not tie you into any fuel plans that we may offer, and pricing fluctuations in the market has no influence on our deliveries.
Will-Call:
Of course we are happy to serve all Will-Call customers as well.  Just make sure you have a properly working tank gauge so you do not risk running out of oil.  The best time to order oil is when your tank gauge reads between 1/4 to 3/8 full.  Our minimum delivery is 125-150 gallons depending on your location.  While we do our best to provide prompt service to all of our customers, you should allow us at least 2 business days for delivery depending on your location and up to a week for rural areas.