West Oil Company is a family-owned and -operated local oil company founded in 1949 by Edward and Dorothy West.  Their legacy of commitment to providing quality fuels and dependable service continues into West Oil's seventh decade in business.
In 1984, Ed and Dorothy retired and sons Bob and Joe purchased the business from their parents, beginning the next generation's leadership role while continuing Ed and Dorothy's dedication to their customers. They, along with Bob's wife Ann, continued to grow their customer base while earning the trust of more and more local homeowners and businesses.
In 1989, a state of the art 115,000 gallon fuel storage facility was built on Ashland Street in North Adams.  Six years later the next phase of expansion included a new 4,500-square-foot headquarters facility.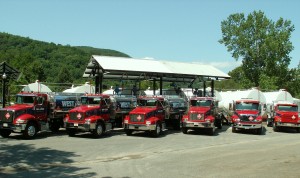 In 2005, Joe retired after many years in the oil industry to begin his next adventure.  Bob and Ann, along with their dedicated staff, continue to grow West Oil by maintaining a sharp focus on what they have always believed is the primary reason for West Oil's success: satisfying their loyal customers with outstanding products and first-class customer service.
Customer satisfaction has always been West Oil's NUMBER ONE Priority… and always will be.